Breast Augmentation - Breast Enhancement
Breast Augmentation remains the most frequently requested cosmetic plastic surgery procedure. The History of Breast Implants spans over 50 years. Since 1962, Breast Implants have lowen the primary means for Breast Augmentation and Breast Reconstruction, replacing less reliable methods like fat grafting, and disfiguring methods like paraffin and free silicone injections.
Breast Implants can provide a wide range of correction, whether you are considering breast enlargement to provide volume for under developed breasts, or you want to restore breast volume lost after child bearing or weight loss. There are many facets to consider with breast enhancement: Size, Filler (Silicone or Saline), Shapes, Profiles, Surface (Smooth or Textured), Placement, Incisions and Postoperative Activity. All options should be considered before the plans for your Breast Augmentation are finalized.
Breast Augmentation Before and After Photos (Augmentation Mammoplasty with Breast Implants)
21 - Breast Augmentation - Tubular Breasts
22 - Breast Augmentation - Tubular Breasts
35 - Breast Augmentation - Tubular Breasts
36 - Breast Augmentation - Tubular Breasts
45 - Breast Augmentation with Nipple Reduction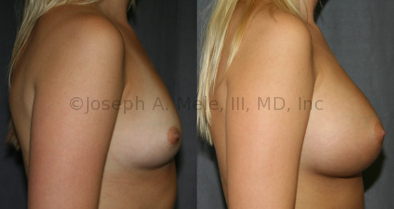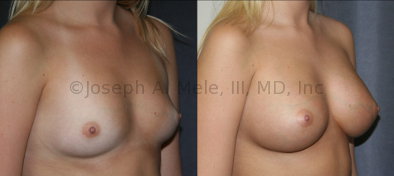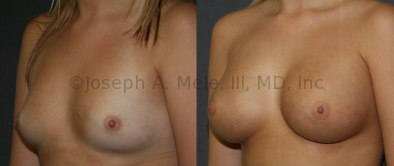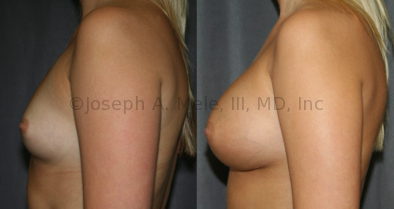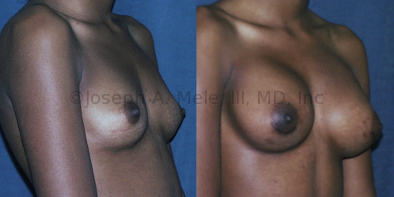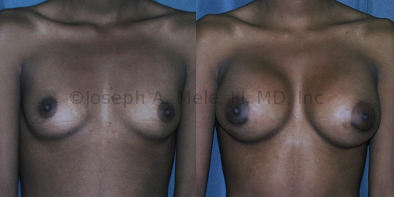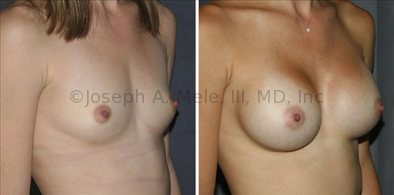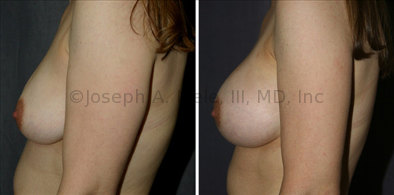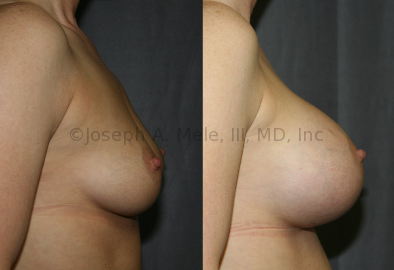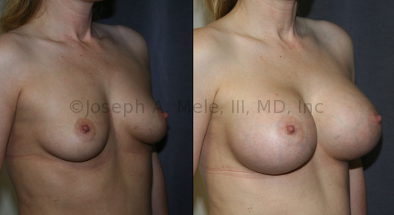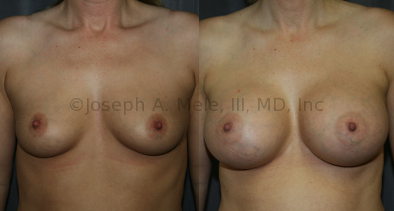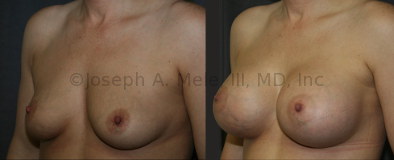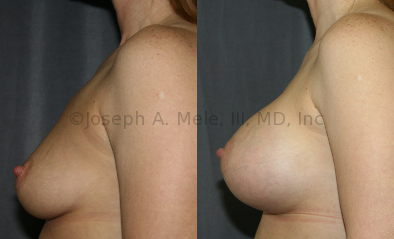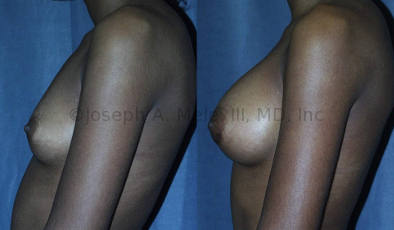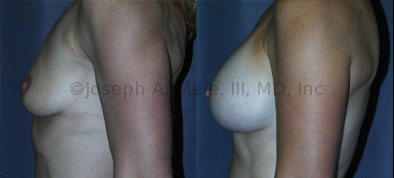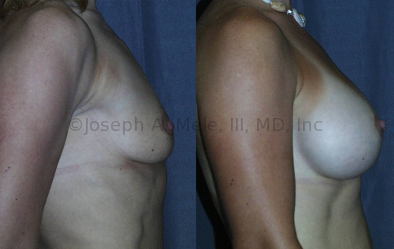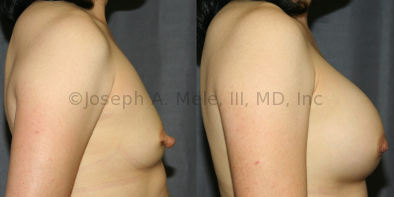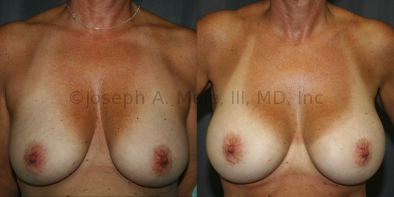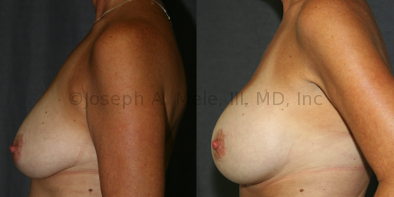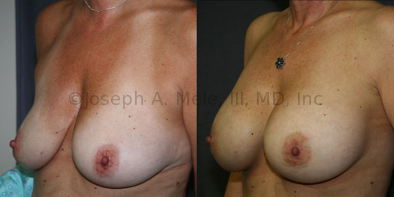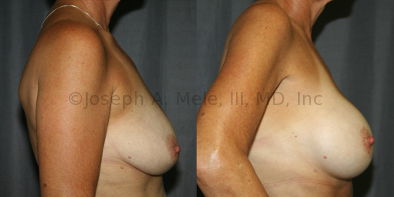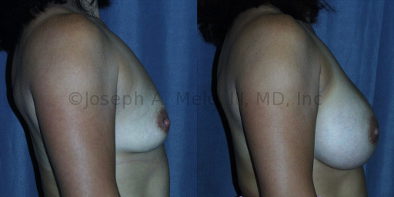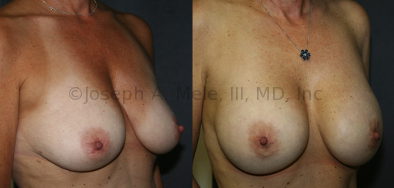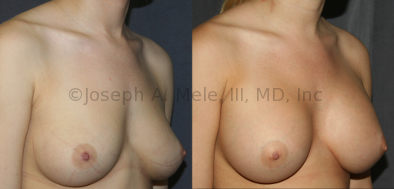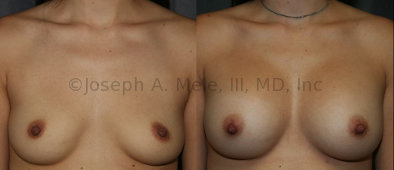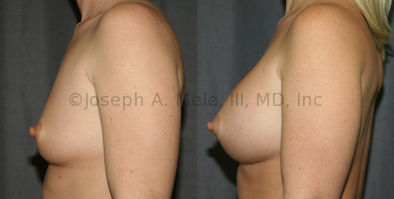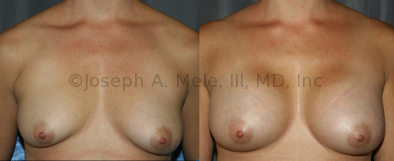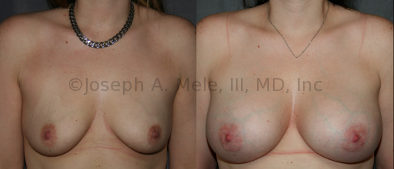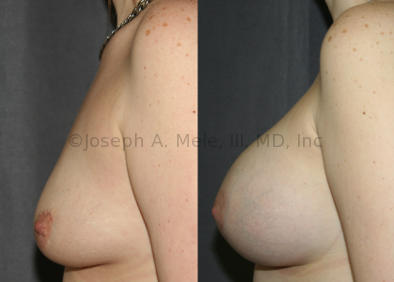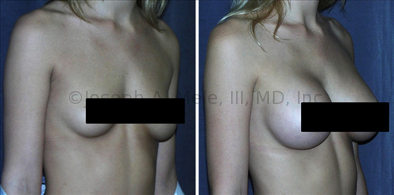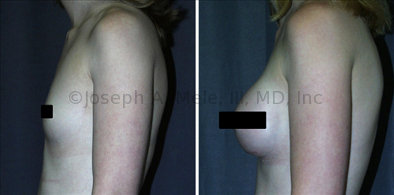 Breast Augmentation Techniques
Several different Breast Augmentation techniques are available. This allows Dr. Mele to choose the method that can give you the best Breast Augmentation results in the safest and most predictable way possible. There is a large amount of general information about Breast Implants and Breast Enhancement on this page and more detailed information is available on the other Breast Augmentation pages linked above.
Breast Augmentation Videos (Breast Implants)
San Francisco Breast provides the latest Breast Enhancement information, as well as the tried and true. It's a good place to start; however, the information provided here cannot substitute for a personalized, in-office consultation appointment with a Board Certified Plastic Surgeon.
Breast Augmentation Options
It would take an entire book to review all the options available to you for Breast Augmentation, and by the time the book was written, another chapter would need to be added. I've tried to stick to the most important information, and review the best practices along with the latest improvements. This page reviews general information about Augmentation Mammoplasty and has been divided into sections addressing the important aspects of the procedure. Each section contains links to additional pages that expand on each topic.
If you are looking for an overview of Breast Augmentation keep reading down the page. If you are looking for detailed information on a particular aspect of Breast Augmentation, or Breast Implants, the links below are provided to allow you to skip to a section covering the specific topic. Within the sections are links to additional pages that explore each topic in more detail. The topics include:
Breast Augmentation Video Presentation
Breast Implant Options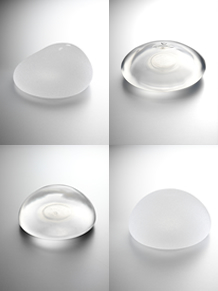 There are many Breast Implant options to consider before your Breast Augmentation. Breast Implants vary by size, filling, shapes, profiles and surface texturing. Each option provides benefits, but may also have a downside. It is important to review your options with an experienced Breast Augmentation Specialist, like Dr. Joseph Mele. He will help you make the best possible choice for your goals.
Some of the most important aspects of Breast Implants are reviewed on the San Francisco Breast Breast Implants Page. You can jump to the incision you want to learn more about, by clicking in the links below, or click on the Breast Augmentation Implants picture below to learn about all the Breast Implant Options.
Breast Implant Placement
A Breast Implant can be placed in front of pectoralis major muscle, behind the muscle, or in the dual plane position. There are advantages and disadvantages to each, and which position will work best for you, will depend on your situation.
Breast Implants behind the muscle, or Submuscular Breast Augmentation, gives a more natural shape to the breast, makes mammography easier and provides additional coverage for the Breast Implants.
Breast Implants in front of the muscle, or Subglandular Breast Augmentation, can provide superior filling of the breast skin with specific indications including congenital problems like Tubular Breasts, and in cases of skin excess with mild sagging. Subglandular placement also provides less movement with muscle flexion for competitive body builders or when a flexion distortion is a problem.
Breast Implants behind the muscle superiorly and in front of the muscle inferiorly, or Dual Plane Breast Augmentation, can provide some of the contour benefits of a Submuscular Breast Augmentation in the upper breast, and some of the lower pole filling benefits of the Subglandular Breast Augmentation in the lower pole.
No matter which approach is selected, it is important that the choice be based on your anatomy and Breast Augmentation goals and with the guidance of a Board Certified Plastic Surgeon with Breast Augmentation experience. Information on these approaches is available on the San Francisco Breast Breast Implant Placement Page.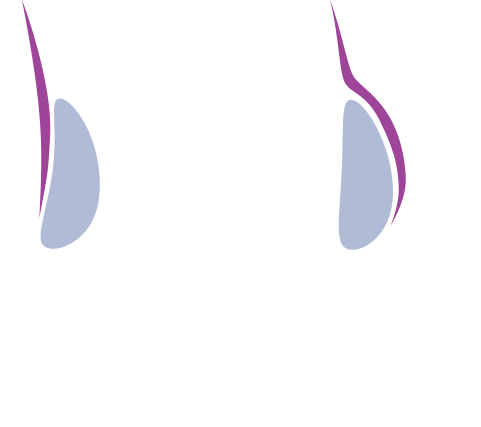 Select the link for the approach you are interested in from the list below
Breast Implant Care
Care around the time of your procedure is important to obtaining the best Breast Augmentation results. Dr. Joseph Mele is a Board Certified Plastic Surgeon with over 15 years of Breast Augmentation experience in private practice in the San Francisco Bay Area. He has developed a specific set of perioperative care instructions for before, the day of and after your Breast Augmentation. These instructions may need to be modified for your specific needs, but can serve as a guide for what to expect. You can skip to a specific section by clicking on the links below, or visit the Breast Augmentation Care Page by clicking the Breast Augmentation Care picture below.
The History of Breast Implants
One of the hottest topics in Breast Augmentation today is the use of fat. Would you be surprised to know that the first Breast Augmentation surgery was performed in 1895 with fat? That the development of Breast Implants, over 50 years ago, was at least partially in response to problems with the other methods of Breast Augmentation available in the 1960's, including problems with fat grafting.
Before leaping after the promises of a "new" technology, it is important to know the past. To quote protopragmatist George Santayana,"Those who cannot remember the past are condemned to repeat it." A brief history of Breast Augmentation is provided to help you make the best choices for youself. While a padded bra was the first, and remains one of the most popular methods of Breast Augmentation, the information provided focuses on Breast Augmentation surgery. Including surgery performed before modern Breast Implants, up to today's current breast implant options.
Contact Us
To see examples of Dr. Mele's beautiful patient results, please view our Before and After Plastic Surgery Photos.
Board certified by the American Board of Surgery (ABS) and the American Board of Plastic Surgery (ABPS), Dr. Mele is a qualified Bay Area Breast Implants surgeon. He has published articles about cosmetic and reconstructive plastic surgery and has presented research at national, state, and local plastic surgery conferences. Dr. Mele is also an active member of the American Society of Plastic Surgeons (ASPS) and the American Society for Aesthetic Plastic Surgery (ASAPS).
If you are interested in breast implants, and would like to schedule a consultation, please contact Walnut Creek Plastic Surgeon, Dr. Mele by calling (925) 943-6353. You may also make a request by filling out a contact form.