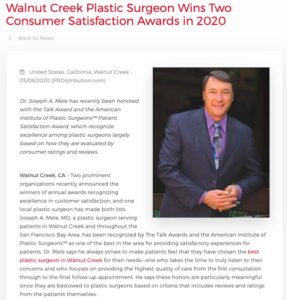 Dr. Joseph A. Mele has recently been honored with the Talk Award and the American Institute of Plastic Surgeons™ Patient Satisfaction Award, which recognize excellence among plastic surgeons largely based on how they are evaluated by consumer ratings and reviews.
Walnut Creek, CA – Two prominent organizations recently announced the winners of annual awards recognizing excellence in customer satisfaction, and one local plastic surgeon has made both lists. Joseph A. Mele, MD, a plastic surgeon serving patients in Walnut Creek and throughout the San Francisco Bay Area, has been recognized by The Talk Awards and the American Institute of Plastic Surgeons™ as one of the best in the area for providing satisfactory experiences for patients. Dr. Mele says he always strives to make patients feel that they have chosen the best plastic surgeon in Walnut Creek for their needs—one who takes the time to truly listen to their concerns and who focuses on providing the highest quality of care from the first consultation through to the final follow-up appointment. He says these honors are particularly meaningful since they are bestowed to plastic surgeons based on criteria that includes reviews and ratings from the patients themselves.
This is the ninth consecutive year that Dr. Mele has won The Talk Award, which calculates ratings from business-rating services, online consumer feedback, social networks, and other available data to determine a thorough annual rating for companies and service providers across the nation. Recipients of the award for plastic surgery are only those who have received an average 4-star or 5-star rating, and Dr. Mele was a 5-star honoree.
Dr. Mele has also received the American Institute of Plastic Surgeons Patient Satisfaction Award multiple years, and 2020 was no exception. Every year, the organization compiles a list of "10 Best" plastic surgeons for each state. The surgeon is nominated for the award by patients, a fellow plastic surgeon, and/or the American Institute of Plastic Surgeons itself. The nominated plastic surgeon's credentials, patient ratings, and professional achievements are then evaluated by a review board to determine the year's winners. The honors are given only to plastic surgeons who have established that they have achieved a high degree of professional success for the benefit of their patients.
Dr. Mele says that providing exceptional service has always been one of the hallmarks of his practice, which offers treatments ranging from breast augmentation and facelift surgery to full Mommy Makeovers, tummy tuck procedures, and many other surgical and non-surgical options. In addition to his private practice, Dr. Mele is also a familiar face in the Walnut Creek area due to his 14 years of appearances on "Body Beautiful," a plastic surgery news feature that airs regularly on San Francisco Bay Area news station KRON-4. Ultimately, Dr. Mele says he has dedicated his career to helping people in his community achieve the appearance they desire and restore their self-confidence. Successfully accomplishing these goals requires skill and experience in addition to a commitment to providing patients with an attentive, helpful, and compassionate approach. He says receiving any kind of award that is based on patient satisfaction is always both an honor and a reminder to continue his practice's core mission: "It inspires me to provide superlative results to every patient. I have been in practice well over twenty years, and it is always humbling to receive such recognition."
About Joseph A. Mele, MD, FACS
Certified by the American Board of Plastic Surgery and the American Board of Surgery, Dr. Joseph Mele began his private plastic surgery practice in 1997. He is a member of the American Society for Aesthetic Plastic Surgery, the American Society of Plastic Surgeons, and the International Society of Aesthetic Plastic Surgery, and is a Fellow of the American College of Surgeons. Dr. Mele has also published numerous articles in renowned plastic surgery and reconstructive surgery journals, and has presented his research at plastic surgery conferences across the U.S. Dr. Mele's practice offers an expansive selection of both surgical and non-surgical aesthetic enhancement options for the face, breasts, and body. Dr. Mele is available for an interview upon request.
For more information about Dr. Joseph A. Mele and his plastic surgery practice, please visit drmele.com or facebook.com/San-Francisco-Plastic-Surgery-115315855148531/.
Contact:
Joseph A. Mele, MD, FACS
130 La Casa Via – Building 2, Suite #206
Walnut Creek, CA 94598
(925) 943-6353
Rosemont Media
(858) 200-0044
www.rosemontmedia.com
Next Post